Lagoon Restoration Fund
HPF is hoping to raise $1,500 for to support short term lagoon restoration efforts this fall.  Donations will go to pay for two large dumpsters, cutting equipment to remove cattails, waders, and other tools for this work.  We will be looking to at least double the amount of cattails we removed last year.  Your support is an essential part of moving the lagoon restoration project forward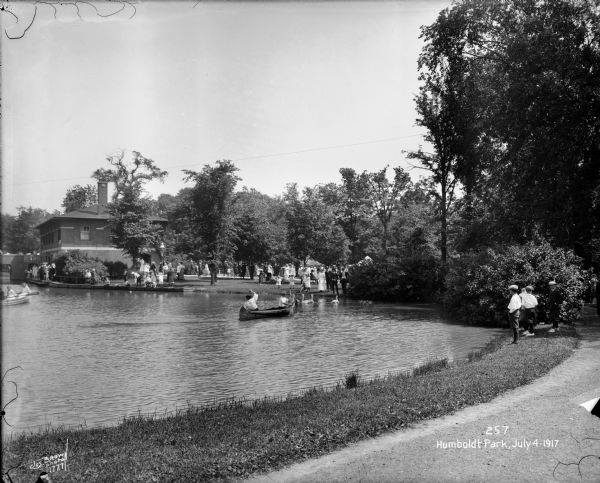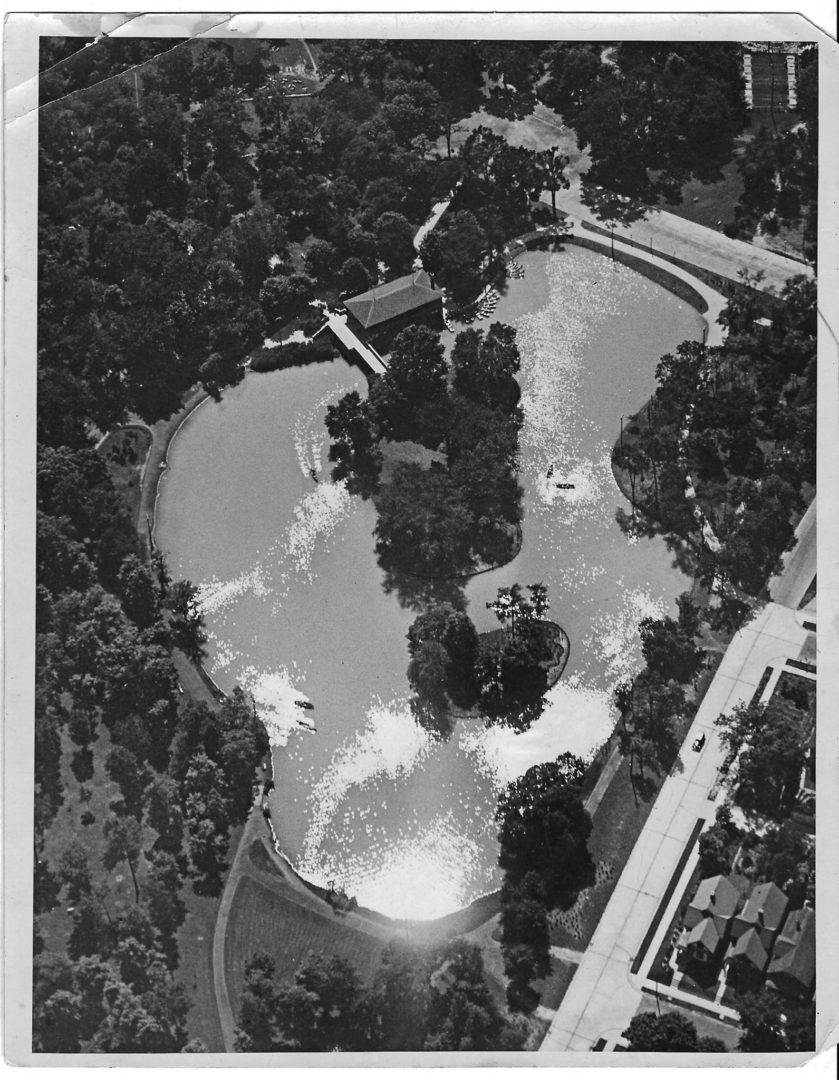 The Survey
Humboldt Park Friends is seeking broad community feedback about the lagoon as part of a long-term effort to improve and restore this unique asset.  Please take this quick, 10 item survey to provide us with your thoughts on what should be our top priorities as we begin to think through the future of the Humboldt Park Lagoon.

The History
A lagoon/artificial lake was excavated in 1893. The overflow from the lagoon created a small creek, over which rustic bridges were built. Also in 1893, a boathouse was constructed on the south shore of the lagoon, which held the rental boats that were popular in the summer and served as a shelter for ice skaters in the winter. The boathouse featured a polygonal end bay with a conical roof. A new multi-story boathouse/pavilion was built in 1910 to replace the 1893 boathouse. The first level contained a large heated room used by ice skaters in winter. When the lagoon was expanded in 1910, a small island was created for picnickers. A concrete footbridge connected the boathouse/pavilion to the island. In summer, boats and canoes were tied to the dock. The boat rental, Simos said in recent interview, was $.10 and canoe rental was $.15 per hour. See more lagoon picture on our History Page.
The Plan
With bathroom renovations completed, HPF is now focusing on the lagoon. This is a long-term, expensive, environmental community endeavor. HPF set up a Lagoon Committee to facilitate the project between HPF, the community and Milwaukee County Parks Department. A few meetings have been place, outcomes: identify needed resources; potential participation beyond the Parks Dept., MMSD, School of Fresh Water Sciences, MATC, DNR, UW Madison Ext. local nonprofit environmental organization.
Upcoming events –
Community listening session, Date arrangements are being arranged.
Hear what the community wants, how is it valued
Post online survey for broader reach
HPF will have a large digital map of the lagoon to help facilitate discussion
Suggested to have a donation box to help fund the restoration
Cat Tail Removal & other invasives , Saturday, October 21, 2017, 8 am to Noon
The Lagoon Committee will meet on the third Monday of the month in the beer garden